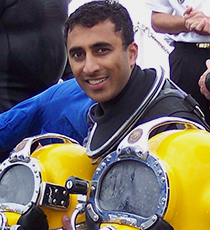 About Dr Ajit Daya
Dr Daya's began his career at The University of Cape Town, where he received his medical degree in 1996. In 2007, he went on to complete his Honours Degree at The University of Stellenbosch, majoring in Underwater Medical Science, before completing a Diploma in Occupational Health from the University of Cape Town.
Before joining Dr Rosendorff and Partners, Dr Daya served as both a Senior Aviation Medical Examiner and a Diving Medical Officer at the Institute for Maritime Medicine.
Dr Daya participates in undersea activities himself and enjoys Scuba Diving. He is also an avid runner and practices the art of Calligraphy.