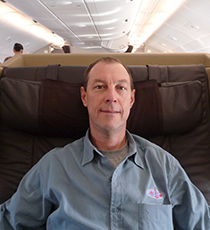 About Dr Graham Rosendorff
Dr Rosendorff received his medical degree from the University of Cape Town in 1988, before moving on to complete his Diploma in Occupational Health also at the University of Cape Town. In addition he also completed Diplomas in Child Health and Obstetrics from the College of Medicine of South Africa.
Dr Rosendorff has a keen interest in maritime, diving, aviation and occupational medicine and assists clients in these industries. He is also a keen aviation enthusiast and an enthusiastic cyclist and enjoys travelling.